Boost Sales With Coupons
By Monna R , Published on 2020-10-03
Consumers are more likely to buy when they can score some deals when shopping. Shopswired provides a way for sellers to run promotions and discounts with coupons so you can boost your sales and produce more loyal customers and encourage repeat purchases.
Manage Coupons
Add A Coupon To Your Shop
Log in to your shop account and go to My Account > More > Coupons
On the Coupons page, click the Add Coupon button.
Fill in the details of the form.
Check Active if you want the coupon available right away.
Click Save.
How to Fill In Your Coupon Details
CouponID - Use something simple, relevant, and easy to remember. A good example is THANKSGIVING which is easy to remember and relevant around that season.
Start/End Date - Select a date range when you want this coupon available. It can be a day, a week, a month or a year. You can be as flexible as you want.
Type - You can choose Percent or Fixed Amount
Amount - Put a number indicating how much discount you want to apply with this coupon. If you put 30, and chose Type Percent, it will be a 30% discount on applicable items. If you chose Fixed, it will be $30 off the the Total Price.
Tags - You can leave this empty if you want the coupon available for all the products on your shop. Or limit to certain items by adding tags. Make sure those tags exists on your products.
Limit - Set it to the number of times you want this coupon available. For example, if you put 10 in there, the coupon can only be used 10 times and will become invalid later even if it is still active, and within the valid date range. If you want it unlimited, use 0 instead.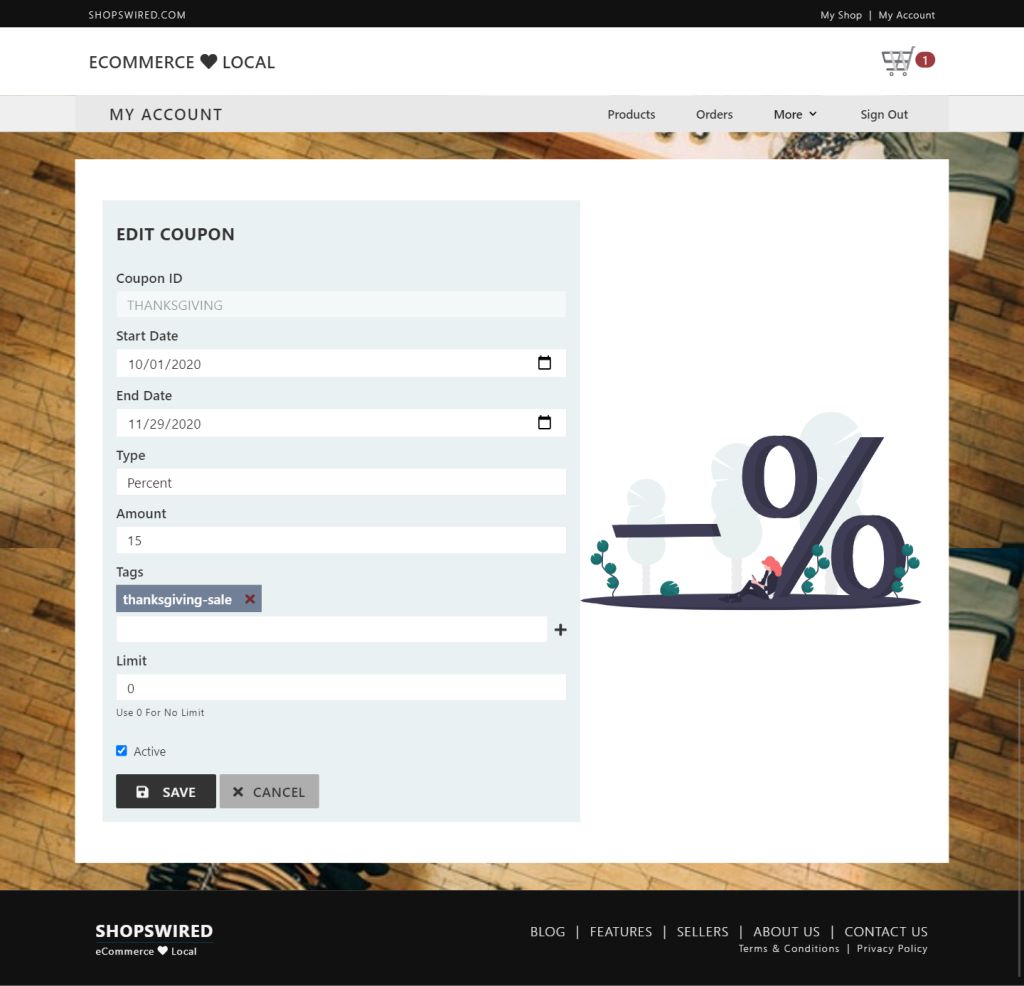 My Account > More > Coupons > Edit Coupon
More features are coming to help you take advantage of the coupon system. For now, go ahead and start creating your coupons for your loyal customers. You might be just a coupon away from getting that sale boost you need.